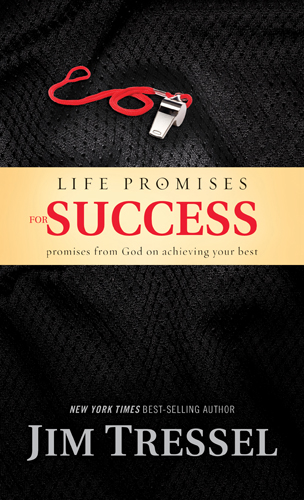 Life Promises for Success by Jim Tressel
Life promises for success is a short book made up of three sections; The Essence of success, The Elements of Success, and The Epitome of Success. In each section, New York Times best seller and Ohio State Buckeyes football coach Jim Tressel, breaks the subject down into more detailed readings. Each reading is no more than two pages long and addresses such themes as attitude, focus, integrity, and persistence. Included in each reading are several bible verses which he calls life promises.
I initially bought this book for my husband, thinking the sports angle would interest him. I was pleased when he continued to read after the first two pages. Then it was time for me to read so that I could write my review. What I found blew me out of the water. This book is not just for sports fans, but for everyone young and old, male and female. It is rare to find such a book. Each page is short, perfect for daily reading and meditation. That being said, I do not think it would make a great choice if you are looking for a book to sit down and read all at once.
Mr. Tressel also does a wonderful job of sharing his faith throughout the book. Although he does not directly address God in each commentary, there are also several bible verses on the second page that relate to the theme of the day. Along with this, Godly character traits are instilled in each reading, making it a great book for teenagers and young adults. I plan on reading this book regularly with my preteen son as another way to instill such values in him. Overall, this is a great book and I would recommend it for all readers.
To comply with new regulations introduced by the Federal Trade Commission, I must mention that Tyndale House Publishers has provided me with a complimentary copy of this book. It in no way influenced my review of the book.